About the Area 
Frafjordheiane is a high mountain plateau divided into valleys and fjord systems that were formed during and after the last Ice Age. The movement of the glaciers and large amounts of meltwater have left behind deposits in the form of terraces, lateral moraines, scree and huge boulders. This has resulted in a dramatic and varied landscape consisting of deep valleys that gradually rise up towards more undulating high hills in the east. In the lower lying parts of Frafjordheiane, visitors can find a valuable cultural landscape. The landscape consists of open pastures and abandoned mountain farms. This landscape is the result of a long period of use in the form of grazing, forestry and burning. A distinctive characteristic of the landscape in Frafjordheiane are the pronounced valleys. These include Røssdalen valley with its dramatic forms such as Fossajuvet and Nordre Dunsen, Lysefjorden with its world-famous attractions such as Preikestolen, Kjeragbolten and the Kjerag plateau, as well as Fidjadalen valley with Månafossen waterfall which is Rogaland County's highest waterfall.
Background for protection and threats
Frafjordheiane Protected Landscape was established to:
Safeguard a representative, distinctive and beautiful landscape consisting of steep fjord and valley sides that transition through low hills all the way up to the bare mountain peaks
Safeguard lakes and watercourses, important habitats for distinctive plant life and wildlife, geological landscape features, and grazing and mountain farming landscapes that have old and newer cultural monuments
Safeguard a distinctive elm/linden forest that holds great diversity, birch forests that are rich in greater wood-rush plants, nutrient-poor meadows, north-facing mountains and scree, and streams and rivers with oceanic moss communities in Røssdalen valley
Ensure that the general public get the opportunity to experience nature through a traditional and simple outdoor life with little technical facilitation
Frafjordheiane has a number of localities that are worthy of preservation, and several of them are of national importance. The heritage values in Frafjordheiane are primarily linked to the landscape and Quaternary geology. In addition, the heritage values associated with the flora found in the area are also great.
There are currently no major threats to the heritage values associated with the landscape or Quaternary geology found in Frafjordheiane. The heritage values related to the cultural landscape in Røssdalen valley, Fidjadalen valley and many mountain farming areas are at risk of becoming overgrown.
Disturbances from traffic constitutes a certain threat to the registered gyrfalcon and eagle owl breeding sites.
All the activity at Kjerag also involves a lot of helicopter traffic in connection with base jumping events, filming and various adaptation measures. This motorized traffic seems to be disruptive for hikers visiting the area.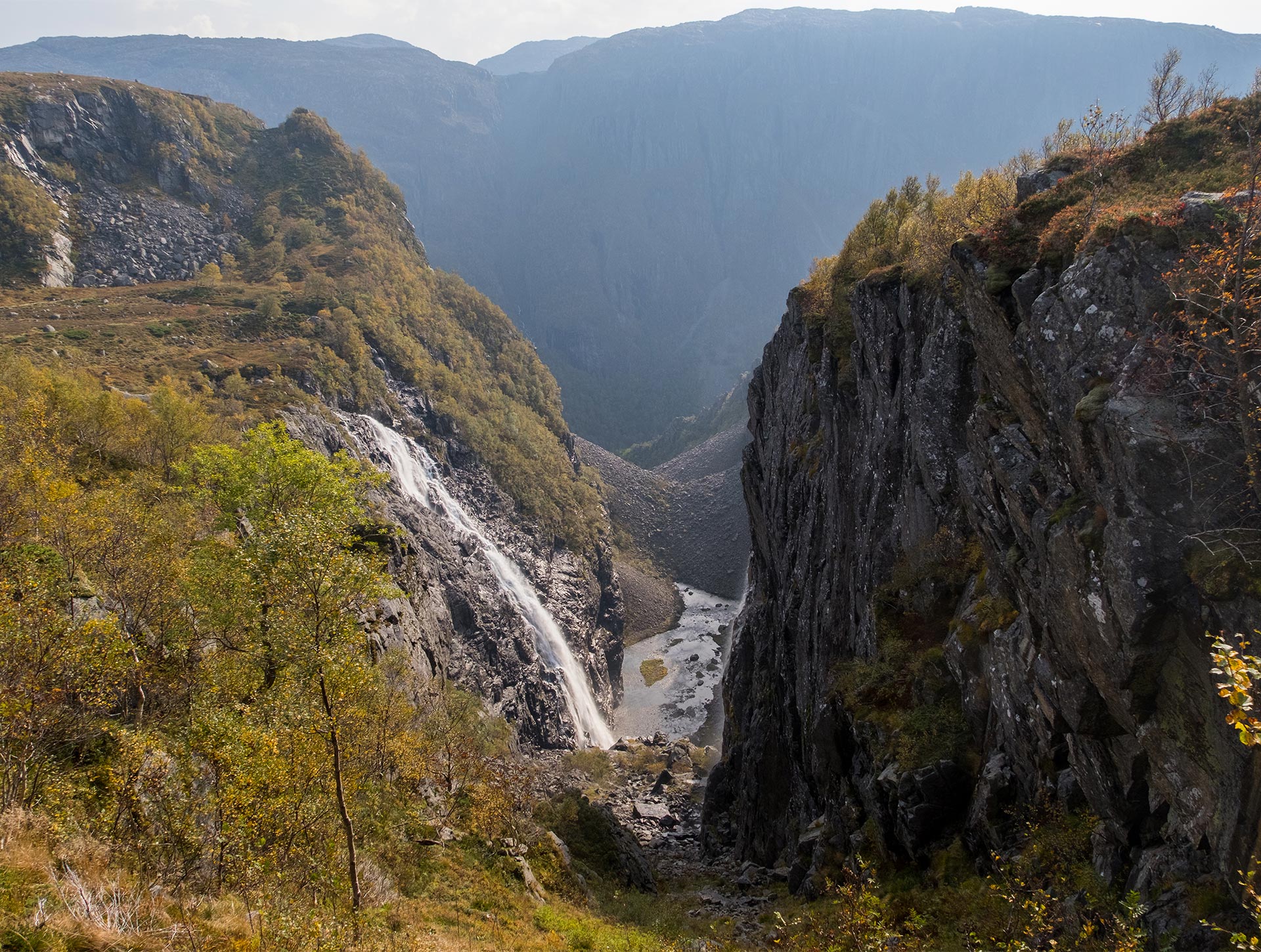 Plant life and wildlife
The vegetation in Frafjordheiane varies greatly. The high mountains are very species-poor due to the acidic, hard bedrock in the area, while biodiverse deciduous forests grow in Røssdalen valley and on the hillsides down towards Frafjord. This deciduous forest is one of the most important heritage values in Frafjordheiane.
Frafjordheiane is one of the best areas for birds in Ryfylke, with approximately 100 recorded species. The rich and varied vegetation in the valleys creates living conditions both for common forest species and for more specialized birds. Not least for birds that nest in hollowed out trees. White-backed woodpeckers, lesser spotted woodpeckers, bluethroats and snow buntings are species you might meet in Frafjordheiane. Golden eagle, gyrfalcon and eagle owl nesting sites have also been registered in the protected area.
Frafjordheiane also has healthy populations of moose and red deer. Wild reindeer used to be a common sight in the area, but an increase in disturbances has led to them becoming a very rare guest after the mid-1990s. Especially hydropower developments, the construction of the road to Lysebotn and large-scale cabin construction in Sirdal make it almost impossible for the wild reindeer to migrate through Frafjordheiane.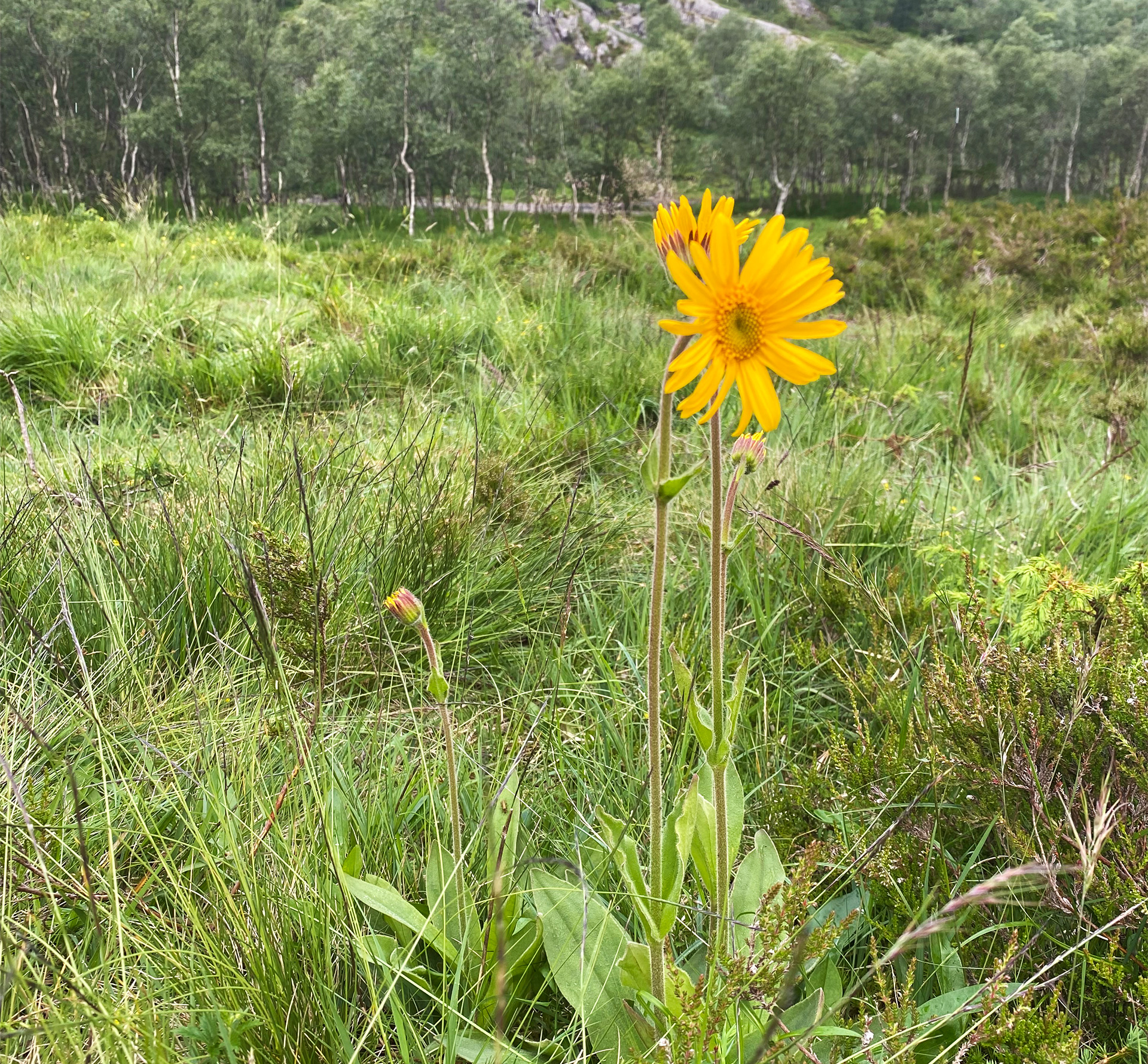 Past use of the area
Frafjordheiane is rich in cultural monuments left behind from settlements, summer mountain farming, haymaking and farming traffic from the 1700s onwards. In Fidjadalen valley, there was a permanent settlement at Fed towards the end of the 19th century and at Mån right up until 1913. The farms at Øvre Espedal and in Frafjorddalen valley continued mountain farming operations until well into the 20th century. The houses and parts of the cultural landscape at Mån have been maintained and are well worth a visit. The same applies to Øvre Espedal summer mountain farm, where the farmhouses were traditionally built in long rows. The many roads that led over the hills always followed the easiest route across. Small stone waymarkers and cairns can be found standing along the most important routes. It is worth mentioning old roads such as 'Kjærlighetsstien' that runs between Øvre Espedal and Frafjord, the old farm road to Øvre Sirdal over Mangærne, and several roads running between Frafjord and Østebødalen valley. The people who had to walk across the mountains in times gone by, such as shepherds, merchants, hunters and fishermen, needed somewhere to sleep at night. Large rocks or rock faces with overhangs were called 'heller' or 'hedler'. Travelers could keep dry and get a good night's sleep under one of these overhangs, even if it was raining. Stones have been stacked around many of these overhangs in the form of sheltering walls to keep out the wind and rain. Today's hikers can also find shelter under these old overhangs.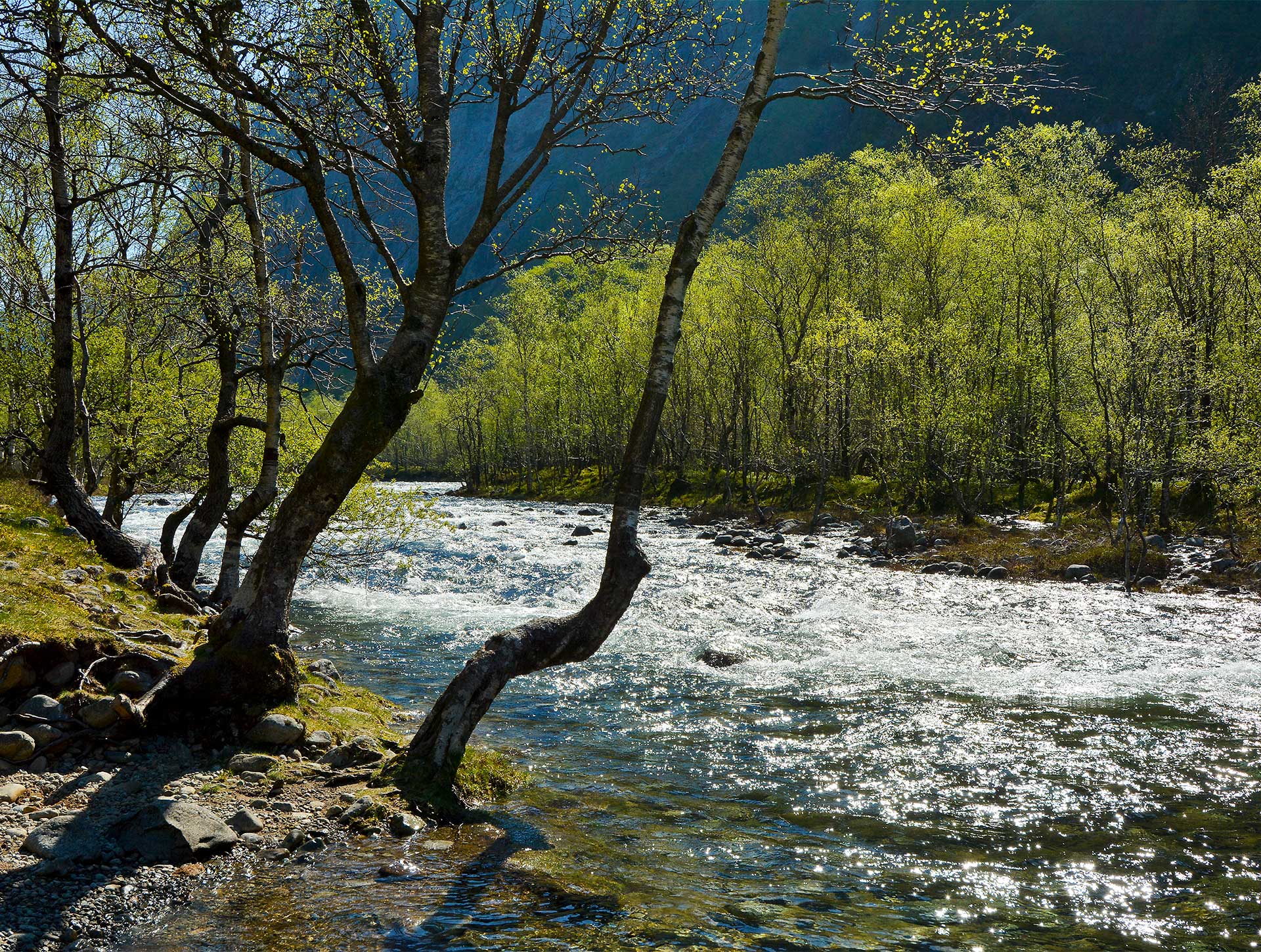 Current use
Frafjordheiane is an important grazing area for sheep, and the area is used by landowners from Frafjord, Øvstabødalen valley and Espedalen valley. In addition, land is rented out for sheep grazing in parts of the inner area. In 2013, approximately 10,000 sheep and lambs grazed in Frafjordheiane.
Stavanger Trekking Association has three tourist cabins in Frafjordheiane. Both the unserviced Blåfjellenden and Sandvatn cabins and the self-service Langavatn cabin are located in the central and eastern parts of the area. In addition, Stavanger Trekking Association owns Flørlistølen cabin which is locked but can be rented. There are several waymarked tourist trails through Frafjordheiane. In recent years, the three open tourist cabins have had an average of approximately 4000 overnight stays in total. 600 of these are during the winter season and 3400 during the summer season. In addition, Jæren Outdoor Board has built a tourist station in the old farmhouse at Mån mountain farm. Over the last few years, approximately 1000 overnight stays have been registered there.
The unserviced Flørli and Børsteinen tourist cabins are located just outside the protected area. Visitors to the cabins largely use the trail network inside the protected area. In recent years, Flørli cabin has had approximately 440 overnight stays during the summer season, while Børsteinen cabin has had approximately 450 overnight stays. 100 of these were during the winter season and 350 during the summer season.
Many areas in Frafjordheiane are used a lot for day trips. Registrations made in 2017 indicated that as many as 50,000 people used the waymarked trail between Øydegardsstøl and Kjerag. Jæren Outdoor Board estimates that as many as 120,000 people visit Månafossen waterfall every year, and approximately 20,000 of these continue the trip on to Mån. Many of these also continue into Fidjadalen valley. The two cabin areas in Øvstebøstølen and Futasete comprise about 350 cabins, and many of the owners go on day trips further into Frafjordheiane. Many people also go on day trips to Røssdalen valley, and registrations from 2000 indicate that approximately 1500 people visit the valley every summer. Frafjordhatten and the surrounding area are also a popular destination for day trips.