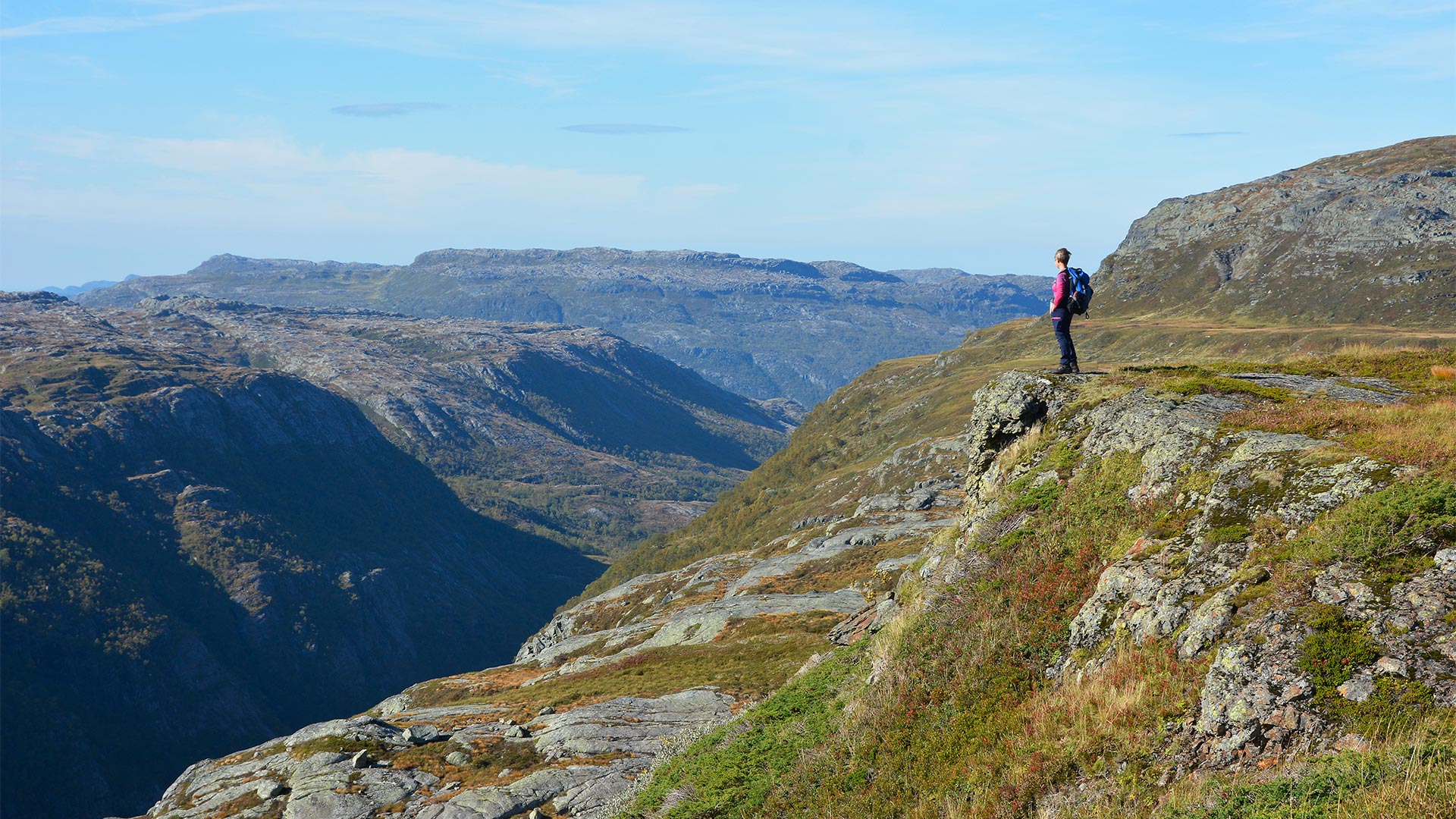 Background for protection and threats
Vormedalsheia Protected Landscape was established to safeguard a distinctive and beautiful landscape that gives a good cross-section of the nature found in Ryfylke, from the fjords to the high mountains, and which contains rare and vulnerable natural elements. Vormedalsheia's heritage values are particularly connected to two things. One is the varied and distinctive landscape with beautiful mountain farming areas, while the other is connected to rare and vulnerable natural elements such as areas that are home to unique flora and the aforementioned fossil site. There are currently no major threats to the geological heritage values found in Vormedalsheia. The more the Ritland Crater becomes known, the more traffic and visitors to the area one must expect. One must also ensure that damage isn't caused by fossil hunters. In addition, there are no obvious threats to the rich botanical areas in the surrounding high hills. The amount of grazing from sheep in the area seems to be at an acceptable level, and there is no real risk of the area becoming overgrown above the tree line. However, the mountain farming areas that are located below the tree line are very much at risk of becoming overgrown. There are large numbers of birch trees and juniper bushes growing in the old mountain meadows, and many of the old roads in the area are becoming overgrown.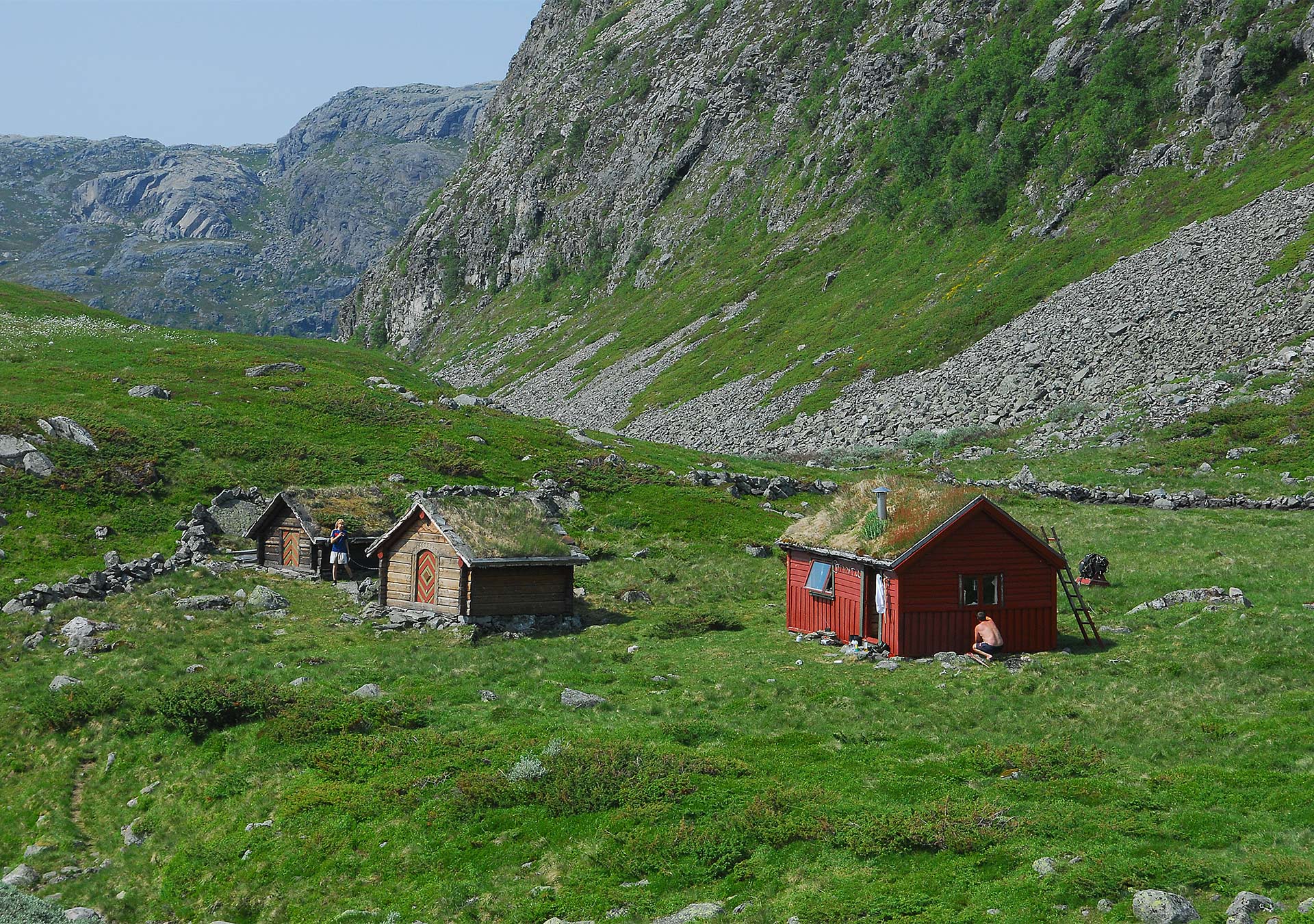 Geology 
The nature found in Vormedalsheia is very beautiful and varied, and contains most of what Western Norwegian nature has to offer. Geological features make up many of the most distinctive and exciting natural elements in Vormedalsheia. In the Ritland Crater, we can find traces of one of the very few meteorite impacts on mainland Norway. Visitors can also find fossils of prehistoric sea creatures in the layers of slate found in the crater. It is also possible to visit Trollgarden which is located south of Kvivatna lake. Trollgarden is 4-5m high and 2km long moraine ridge that was formed by a glacial surge at the end of the last Ice Age. It got its name because people used to think that a troll had stacked the stones to make a fence.
Plant life and wildlife
In Vormedalsheia, one can find many mountainous areas that are very rich in plant life and are home to species that are rare on a national scale. The most important areas are Skardheia, Austmannahovudet, Stropastøl and Grånibba-Brendeknutane. Among other things, visitors can find alpine sagewort, field locoweed, alpine saxifrage, and many alpine plants that have their southern border in these areas. Field locoweed only grows in two places in the country, and one of them is here in Vormedalsheia. Vormedalsheia is one of the very few places in the country where alpine sagewort and alpine saxifrage grow. Other rare species that grow in Vormedalsheia are Primula scandinavica, the field gentian, the snow cinque, long-stalked yellow-sedge and snowbed sedge. Vormedalsheia is also rich in birdlife. 83 different species were recorded during a survey of the area around Funningsland. Birds of prey such as northern goshawks, golden eagles, rough-legged buzzards and eagle owls occasionally nest in Vormedalsheia. You may be lucky enough to meet all four Norwegian species of deer in Vormedalsheia. The red deer has its calving area and summer grazing grounds at Nordstølshei and has been observed in Kvanndal and at Stakkstøl. Roe deer have permanent habitats outside the protected landscape, but have been observed all the way in at Trollgarden. There is a permanent population of moose in the western parts of Vormedalsheia. In recent years, wild reindeer have visited Vormedalsheia during the winter. These are mostly small herds of bulls. These herds can usually be found at Brendeknutane and Frigardsheia, but they have also been observed many places down towards the birch forest. Prior to the hydropower development, Vormedalsheia was an important grazing area for the wild reindeer during late winter and spring. Quite a few herds could be found in Vormedalsheia, and annual calving took place in the area as late as the 1990s. Read more about wild reindeer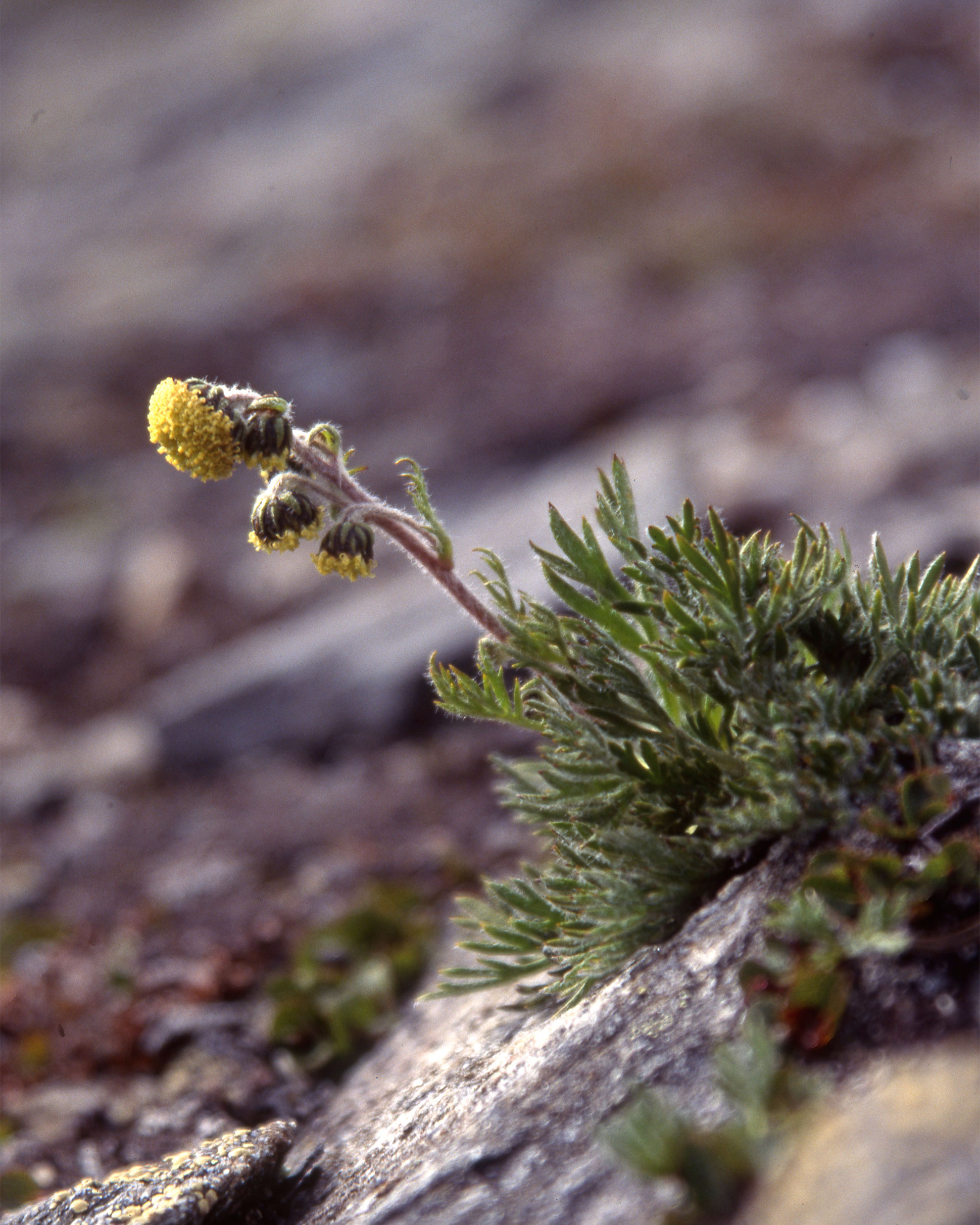 Past use of the area
Vormedalsheia is rich in cultural monuments left behind by settlements and mountain farming from the 18th century onwards. There are a number of farms located just outside the protected landscape. Trodla-Tysdal is located next to Øvre Tysdalsvatn lake, where people still live today. There have been many crofter's farms at Trodla-Tysdal. Inside the protected area on the northern banks of Tusso river, visitors can see the old foundations of Grovene crofter's farm. Tengesdal Farm is located halfway up Norddalen valley and was abandoned towards the end of the 19th century. There is an old road that leads from Trodla-Tysdal up to Tengedalsvatnet lake. The road was cleared and walled around 1820 and is still clearly visible.
There are three farms located southwest of Vormedalsheia, Kløv, Helgaland and Ritland. The farms were abandoned around 1960. These farms are important elements in the cultural landscape and have influenced and shaped the surrounding landscape. On the southern side of Jøsenfjorden, visitors can find traces of the crofter's farms called Gåsnes and Galgehaugen. 
There have been a number of summer mountain farms located southeast of Funningsland and Vikestølsheia: Sandvika, Jonsstøl, Torsstøl, Bjørndalen, Øyestøl, Stikkstølen, Vasstølen, Skithol, Fjellsenden, Kvanndal, Gjotastig, Ottestøl, Bjørnabu, Stropastøl, Raudkleiv and Krostøl. Jonsstøl and Torsstøl were summer mountain farms for Fundingsland. Active farming ceased at Torsstøl around the turn of the century. It is uncertain whether Jonsstøl was a summer mountain farm, but heaps of stones from clearing have been found there. Fundingsland had a summer mountain farm in Bjørndalen valley. There has been a summer mountain farm at Vasstøl, and there were farms, 5-6 barns and stacking places at Stakkstøl. Buildings can still be found at Vasstøl and Stakkstøl.
There have been 10-12 barns in the area around Vassbotnvatnet lake and Liarstrandvatnet lake, and summer mountain farms at Ottestøl and Kvanndal. Buildings can still be found at Ottestøl, Vassbotnen, Botnen and Kvanndal. Summer mountain farming gradually declined at the beginning of the 20th century, and it pretty much ceased altogether after the Second World War. Some main farms had spring and summer mountain farms. Meland had a summer mountain farm at Gjotastig and Fjellsenden, Tøtland at Skitholtjørna, Kleivaland at Stropastøl and Ritland at Raudkleiv. Buildings can still be found at Bjørnabu, Stropastøl and Raudkleiv.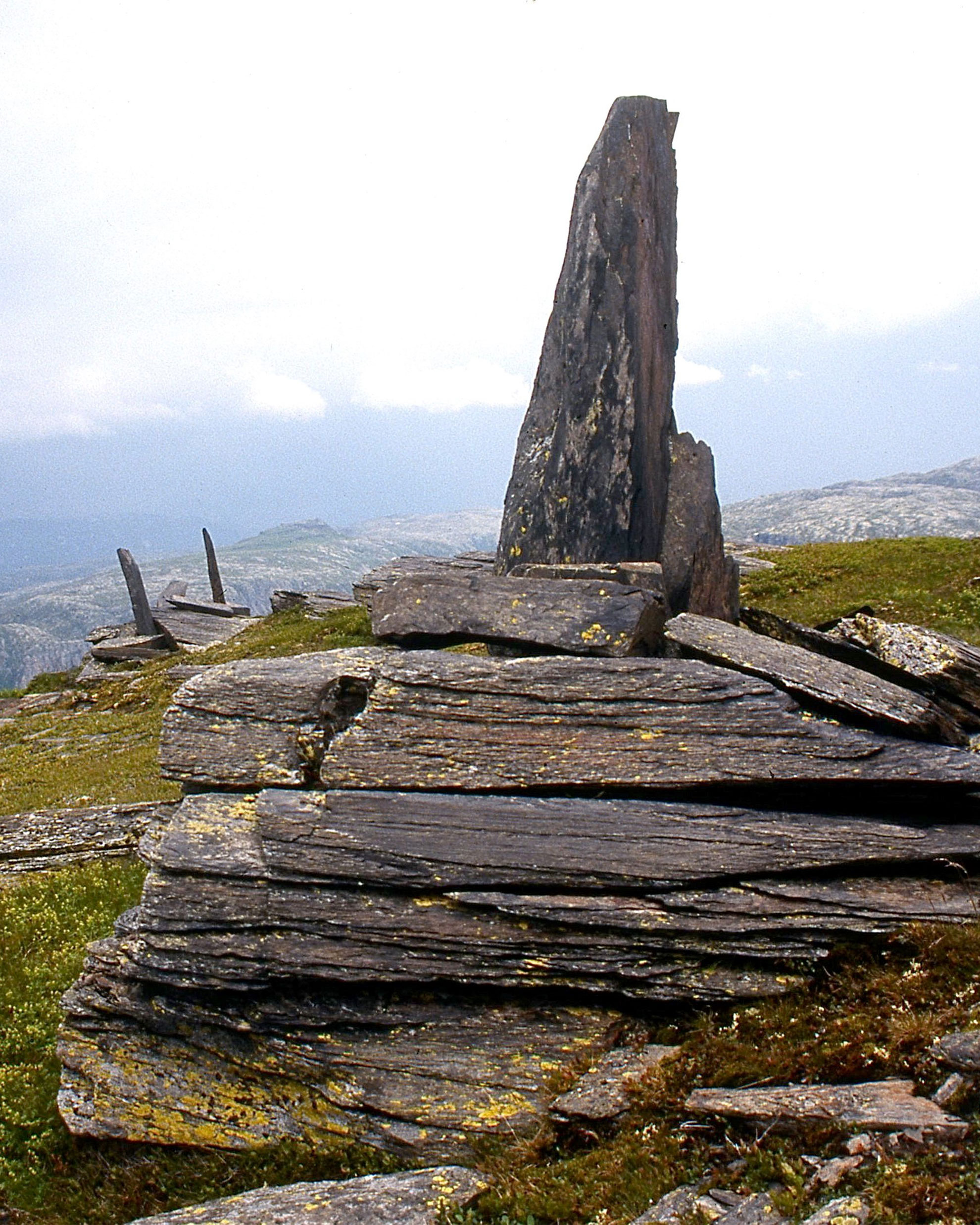 Current use
Vormedalsheia is an important grazing area for sheep, and approximately 2000 animals grazed in the area in 2013.
Melands-Grønahei belongs to Stavanger Trekking Association and is the only tourist cabin in Vormedalsheia. Large sections of the waymarked tourist trails Kleivaland-Melands-Grønahei, Melands-Grønahei-Grasdalen and Fundingsland-Grasdalen run through the protected area. In recent years, Melands-Grønahei has had approximately 500-600 overnight stays; about 50 of them during the winter season and the rest during the summer.
Grasdalen tourist cabin belongs to Stavanger Trekking Association and is located in the valley between Lusaheia and Vormedalsheia protected landscapes. In recent years, Grasdalen cabin has had approximately 100 overnight stays each year. Trodla-Tysdal tourist cabin is privately owned and located just outside the protected area, but visitors to the cabin go on day trips to Vormedalsheia. In recent years, Trodla-Tysdal has had approximately 1000-1500 overnight stays during the summer season and approximately 4000 day visits.
Vormedalsheia has been an important area for both big game and small game hunting. In recent years, wild reindeer hunting hasn't taken place in Vormedalsheia, but moose and red deer are hunted every year. A lot of small game hunting also takes place in Vormedalsheia.