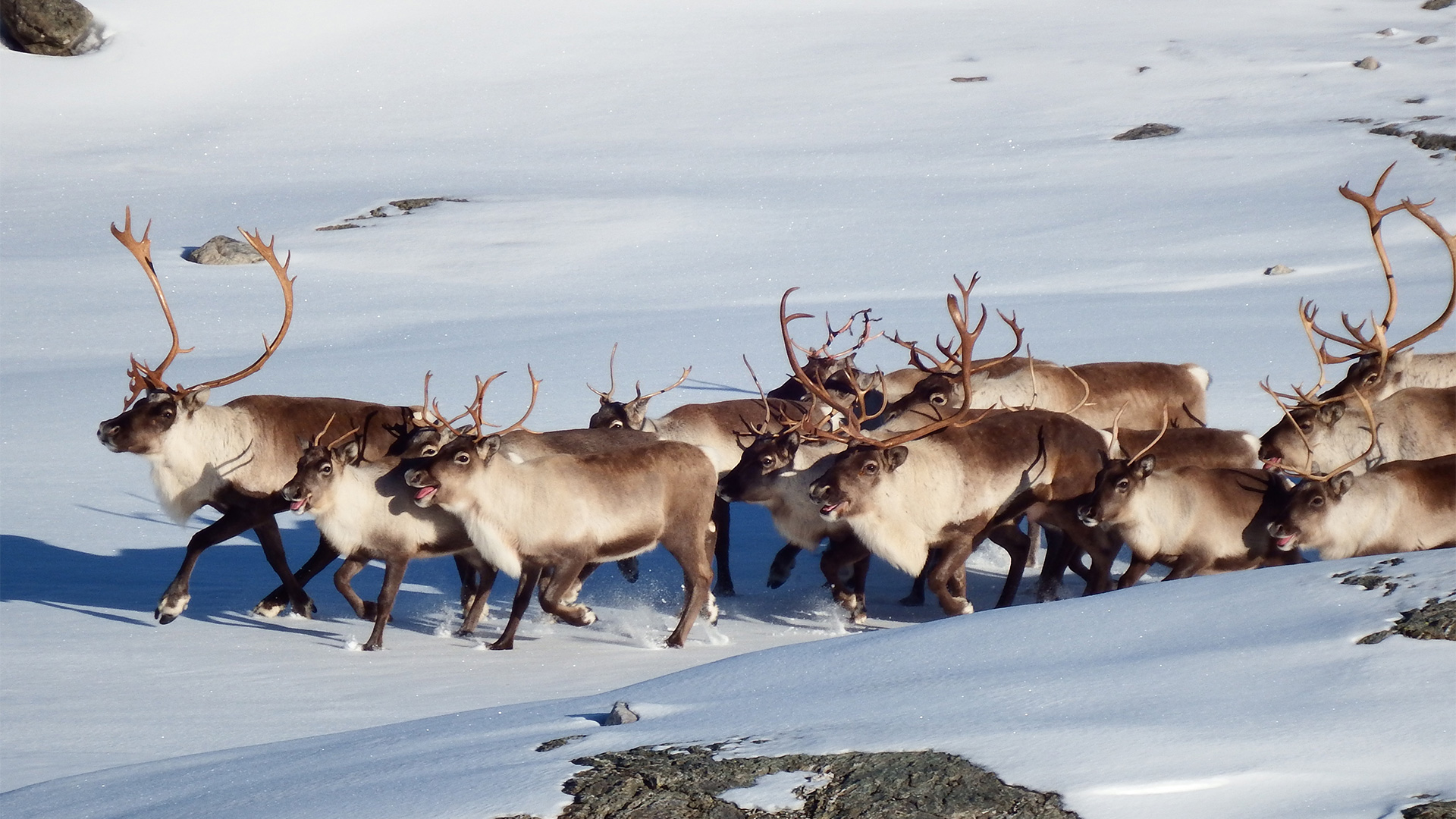 Background for protection and threats
Dyraheio Protected Landscape was protected to safeguard a distinctive mountainous area that has untouched nature, a rich plant life, valuable summer mountain farming areas and grazing landscape, and old and more modern cultural monuments left behind from mountain farming, hillside grazing, hunting, fishing and trapping. The objective of the protection is also to safeguard important wildlife habitats, and especially to secure an interconnected mountainous area and living conditions for the southernmost wild reindeer population in Europe.
There are currently no major threats to the botanical heritage values found in Dyraheio. Localities are often found in steep areas so that wear and tear from humans or grazing sheep do not cause any major problems. Heritage values related to the cultural landscape are threatened by birch trees and juniper bushes which are causing the area to become overgrown. This is particularly a problem in the mountain meadows and other areas below the tree line.
There are no conditions connected to current use and traffic that constitute serious threats to Dyraheio's function as a wild reindeer habitat. However, there are technical encroachments that create migratory obstacles, and some motorized traffic that causes a certain amount of disturbance for the wild reindeer.
Plant life and wildlife
The plant life in Dyraheio Protected Landscape is varied, and the number of various vascular plants that grow in the area is relatively high. The vegetation is sparse and relatively species-poor over much of the area, but there are areas that are extremely lush and biodiverse. This botanic richness is caused by the nutrient-rich rock called phyllite. The lush areas found in Stranddalen valley, Raudnuten, Hognsnuten and Meiadalen valley are particularly valuable. These places are home to species such as alpine saxifrage, which only grows in a few places in Norway outside of Suldal and Hjelmeland. There are also large areas covered by beautiful mountain avens.
Dyraheio has a rich wildlife. Visitors will find a wide range of bird and mammal species here that help bring the mountain landscape to life. Many of the species found here are the same that are otherwise found in Ryfylkeheiane, but as the name suggests, encounters with wild reindeer are common. The central parts of Dyraheio are used for both summer and winter grazing by the wild reindeer population. During winters where there is a lot of snowfall or icing on the mountain grazing grounds, the wild reindeer move all the way down into the birch forest to graze.
Dyraheio is home to many birds of prey. Merlins are the most common birds of prey in the forested areas, but golden eagles are mostly seen in the high hills. Kestrels are also a common species, and the rarer gyrfalcon nests in several areas in Dyraheio. Rough-legged buzzards regularly breed and nest in Dyraheio, and they can be a rather common sight during years that see large populations of small rodents.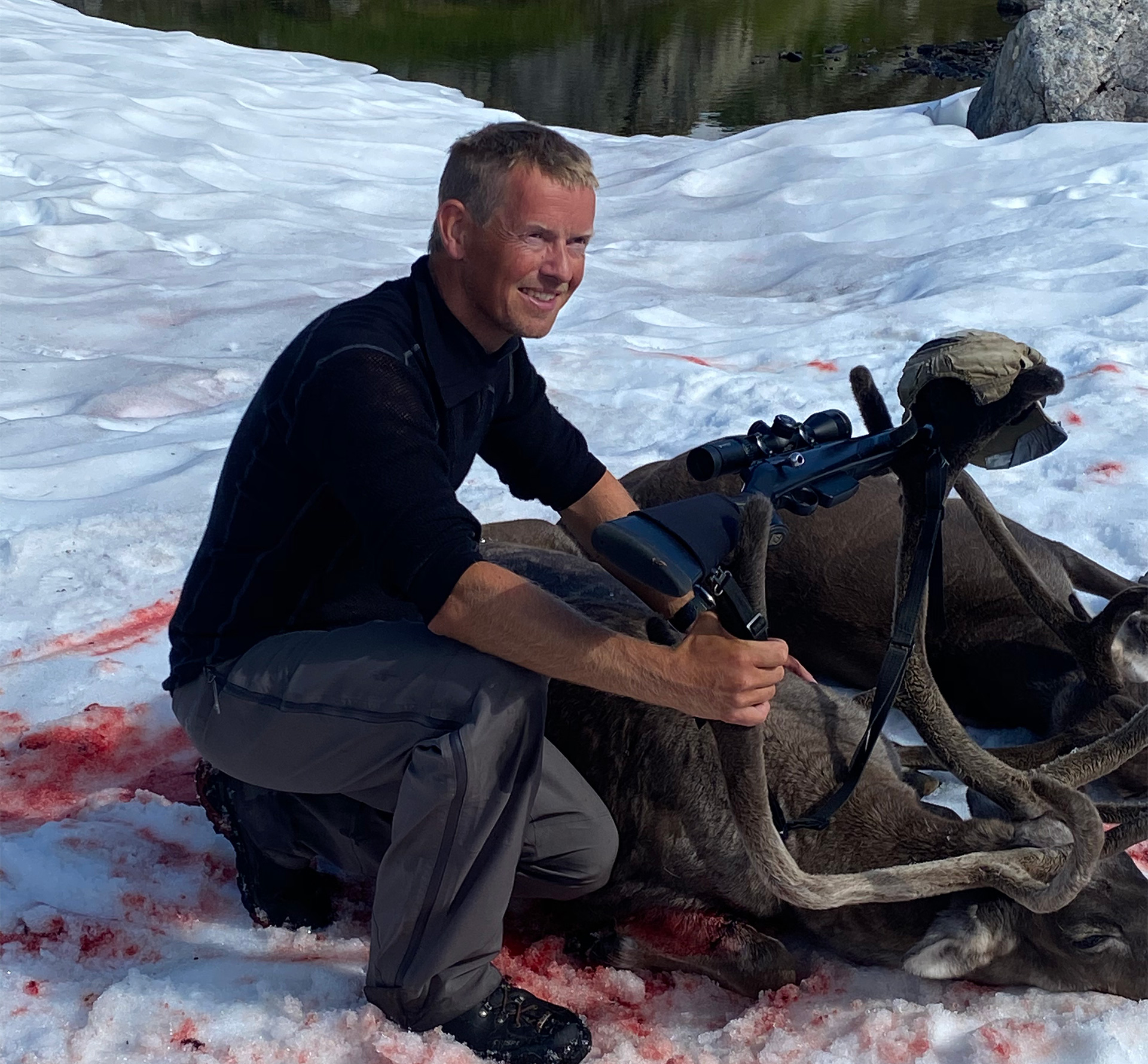 Past use of the area
Dyraheio has been utilized by humans since the Iron Age for mountain farming, transportation, hunting and trapping. These activities have left behind many cultural monuments. The foundations of ancient houses can be found on many of the mountain meadows in the area. There are row upon row of moss-covered waymarkers and cairns that show the best way through the rugged mountain terrain. These are relics from the many trips that took place over the mountains between Suldal and Bykle. There are many stone shelters along these routes where people have stacked rocks up against a boulder or a mountain overhang. These were places where hunters or travelers could find some shelter from the wind and rain.
The hunting and trapping of wild reindeer in the Iron Age and Middle Ages have also left behind many traces. Several archers' hides and four pitfall traps have been recorded within the borders of Dyraheio Protected Landscape. There are also six earthen cabins in the protected area. These are small buildings of approximately 5-10m² with walls of stone that are partially dug into a hillside. These were built in the 19th century and were mostly used during wild reindeer hunting.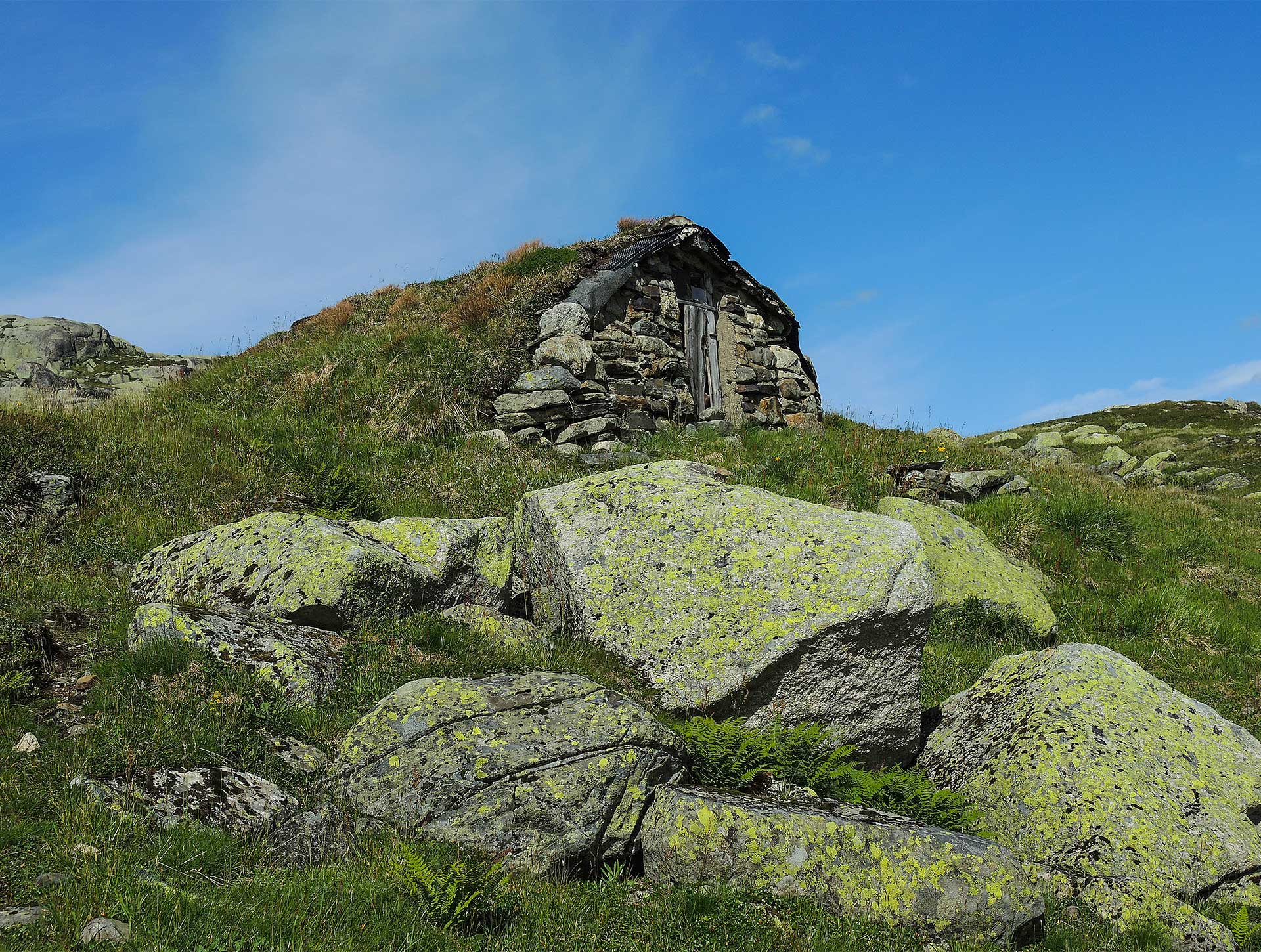 Current use
Dyraheio is an important grazing area for sheep, and approximately 3000 animals grazed in the area in 2013.
Currently, Stavanger Trekking Association continues to have a strong presence in Dyraheio. They have a well-developed trail network and self-service cabins at Krossvatn, Jonstøl and Bleskestadmoen. A modern tourist facility has been built in Stranddalen valley that is staffed during the summer season. The tourist cabins in Dyraheio had a total of 4600 overnight stays in 2019. In addition, many people visit Dyraheio on day trips. Mountains such as Såta and Snønuten are popular destinations during both summer and winter, and approximately 2000 people visit Stranddalen valley to enjoy the rich plant life or a dinner of potato dumplings.
Suldal Mountain Board also has three cabins that are mostly used during the hunting season. In total, these cabins have approximately 300 overnight stays each year.
Dyraheio has always been an important area for both big game and small game hunting. Moose and red deer hunting take place each year in the lower lying forests, and 100 hunting permits for wild reindeer were allocated in 2013. A lot of small game hunting also takes place in Dyraheio. There is also good trout fishing in many of the area's lakes and watercourses.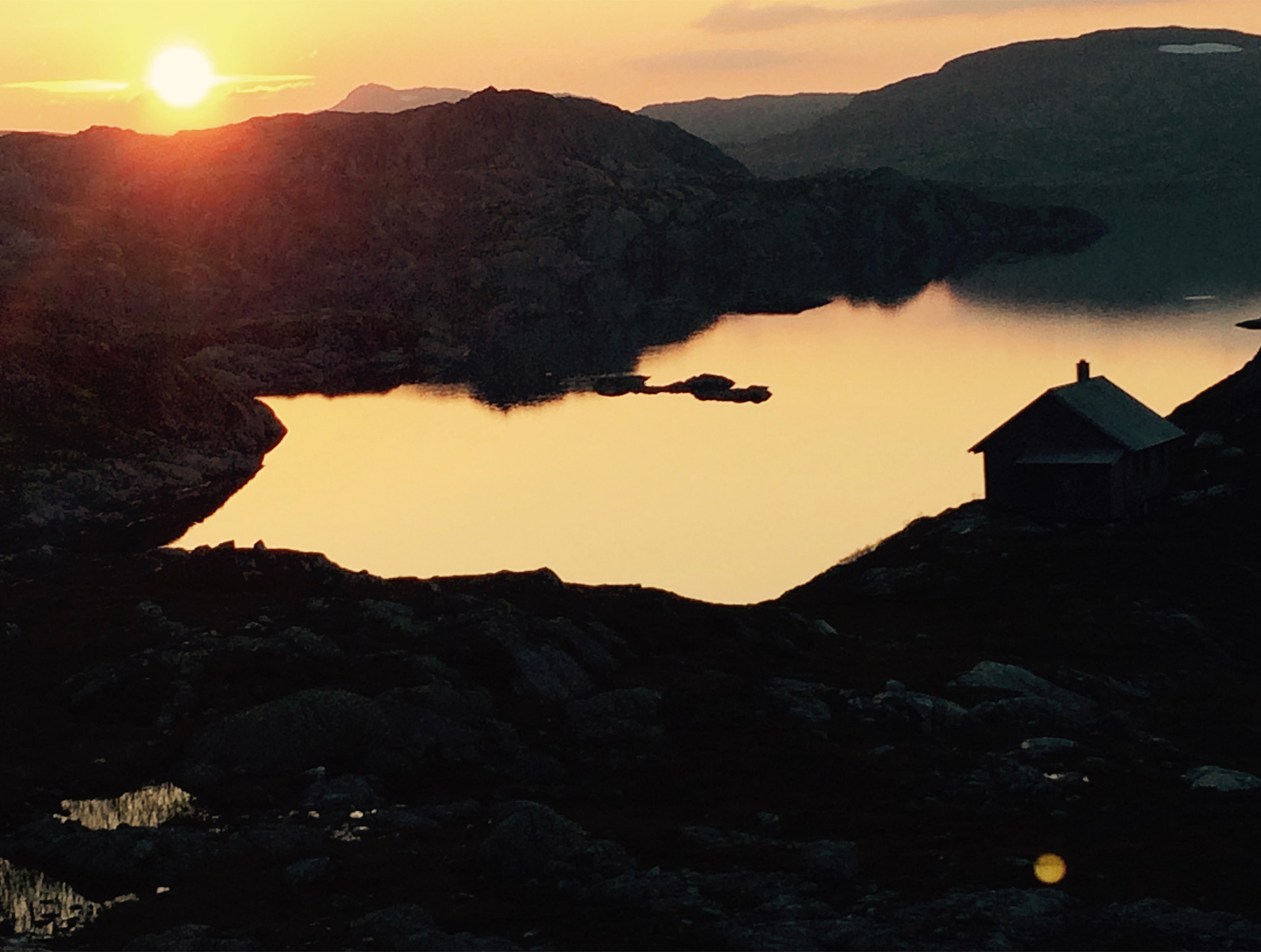 Sources and further reading
Forvaltningsplan på verneområdestyrets nettstad
Bakka, Tryggve (1997). Stadnamn, vegar og verksemd i Dyraheio. AmS-Varia 16
Bang-Andersen, Sveinung (1983). Kulturminner i Dyraheio. AmS-Varia 12
Bang- Andersen, Sveinung (2004). Reinsdyrgraver i Setesdal Vesthei – analyse av gravenes beliggenhet, byggemåte og brukshistorie. AmS-Varia 40. Arkeologisk museum: Stavanger.
Bang- Andersen, Sveinung (2008). De første jegerne i Dyraheio – utnyttelsen av Setesdal Vesthei i steinalder ca 7000-3500 år før nåtid. AmS-Varia 48. Arkeologisk museum: Stavanger.
Brandal, Trygve og Tjeltveit, Njål (1996). Sau og hei. Sauehald og heiaføring i Ryfylke og på Haugalandet. Ryfylkemuseet.
Brandal, Trygve og Tjeltveit, Njål (1998). Geit og støl. Geitehald i Ryfylke og Nord-Rogaland. Ryfylkemuseet.
Fylkesmannen i Rogaland (1993). Verneplan for Kvanndalen landskapsvernområde, Dyraheio landskapsvernområde og Holmavassåno biotopvernområde i Suldal kommune, Rogaland.
Fylkesmannen i Rogaland. Forvaltningsplan for Kvanndalen landskapsvernområde, Dyraheio landskapsvernområde og Holmavassåno Biotopvernområde i Suldal kommune, Rogaland.
Gleditsch, Kristen (1916). Fra Suldals- og Bykleheiene. Stavanger turistforening årbok 1915-16.
Gleditsch, Kristen (1926). Nasjonalpark. Fredlyst almenning i Suldals-Bykle-heiene. Stavanger turistforening årbok 1926
Hellemo, Lars (1985). Frå torvskurd til tingsal. Ryfylkemuseet/Dreyer bok
Hoftun, Halvard (1981). Suldal kultursoge. Suldal kommune
Odden, A (2021). Naturmangfald og kulturminne i Kvanndalen og Dyraheio landskapsvernområde. SVR-Notat 1-2021.
Steinnes, Audun (1988). Oversikt over botaniske verneverdiar i Rogaland. Økoforsk rapport. 1988:12. Ås-NLH.
Strand, Olav m.fl (2012). Villreinens bruk av Setesdalsheiene. Sluttrapport fra GPS merkeprosjektet 2006–2010. NINA Rapport 694